This waffle recipe made with sweet potatoes is an excellent option if you're looking for a breakfast that's low in carbohydrates and in calories.
You can easily adapt this recipe to make it sweet or savoury – or a little of both, if that's what you feel like!
The Health Benefits of Sweet Potatoes
Sweet potatoes offer many health benefits. Here are five of them, which will convince you to use more sweet potatoes in your recipes:
Sweet potatoes are considered to have a low glycemic index. This means that they are digested slowly, which means you will feel fuller longer. Another food with a low glycemic index? The spelt flour that we use in this recipe and in our granola blends.
Sweet potatoes are high in vitamin C and beta carotene.
Because they are high in fibre, sweet potatoes help prevent constipation and contribute to the overall health of your digestive system, which is very important!
A sweet potato baked with its skin on only contains about 100 calories.
Sweet potatoes can help you lose weight. Around 12% of the starch in sweet potato is resistant starch, a substance that is similar to fibre in that it is not digested by the body, but helps to burn energy during digestion.
How to Cook Sweet Potatoes?
This recipe for low-carbohydrate waffles is perfect when you need to use up leftover cooked sweet potatoes, especially after Thanksgiving.
If you still need to cook them, you have three options:
Boiled sweet potatoes: peel the sweet potatoes and cut them into chunks. Place them in a saucepan and cover them with boiling water. Boil for about 15 minutes or until tender.
Oven-roasted sweet potatoes: Preheat the oven to 400°F. Prick the sweet potatoes with a fork and wrap them in aluminum foil. Place them directly on the oven rack or on a baking sheet and bake for about 45 to 60 minutes, or until tender.
Microwaved sweet potatoes: Prick the sweet potatoes with a fork so they won't explode. Wet a paper towel and place the sweet potatoes on top of the paper towel on the microwave tray. Microwave on high for about four minutes. Check the sweet potatoes; if they are not yet tender, continue to microwave them for 30 to 60 seconds at a time until they are perfectly cooked.
How to make sweet potato and muesli waffles
Preparation: 30 minutes
Portions: About 6 waffles
Ingredients
1 cup sweet potatoes, cooked and mashed
1 cup Müska Natural, crushed in a food processor
1 ½ cups Organic spelt flour
1 cup milk of your choice
2 eggs
1 tsp. baking powder
½ tsp. baking soda
½ tsp. of cinnamon, nutmeg and turmeric powder
1 tbsp. coconut oil
1 tbsp. honey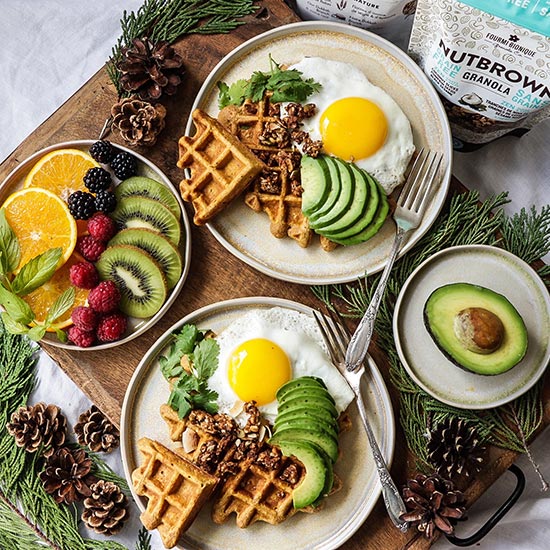 The recipe
Mix the mashed sweet potatoes, eggs, milk, honey, and coconut oil together in a food processor.
Mix the dry ingredients together in another bowl, then add the dry ingredients to the wet ingredients until you have a smooth batter.
Heat your waffle maker, grease it and add three heaping tablespoons of batter at a time.
Top with an egg, avocado, cilantro, Nutbrown Zen, and a dollop of pesto to taste!