Our go-to for breakfast—waffles 🧇
For a great Christmas brunch, why not offer your guests SUPER easy-to-make and ABSOLUTELY DELICIOUS waffles!
Ingredients:
1 1/2 cups spelt flour
1 tbsp. cornstarch
1 tbsp. baking powder
1/2 tsp. salt
1 tbsp. cinnamon
1 tbsp. ground ginger
1/2 tsp. nutmeg
1/4 tsp. allspice
1t. 1/2 cup oat milk
3 tbsp. maple syrup
2 eggs
1/3 cup melted butter
1 tsp. vanilla
1 diced apple sprinkled with cinnamon
Pomegranate seeds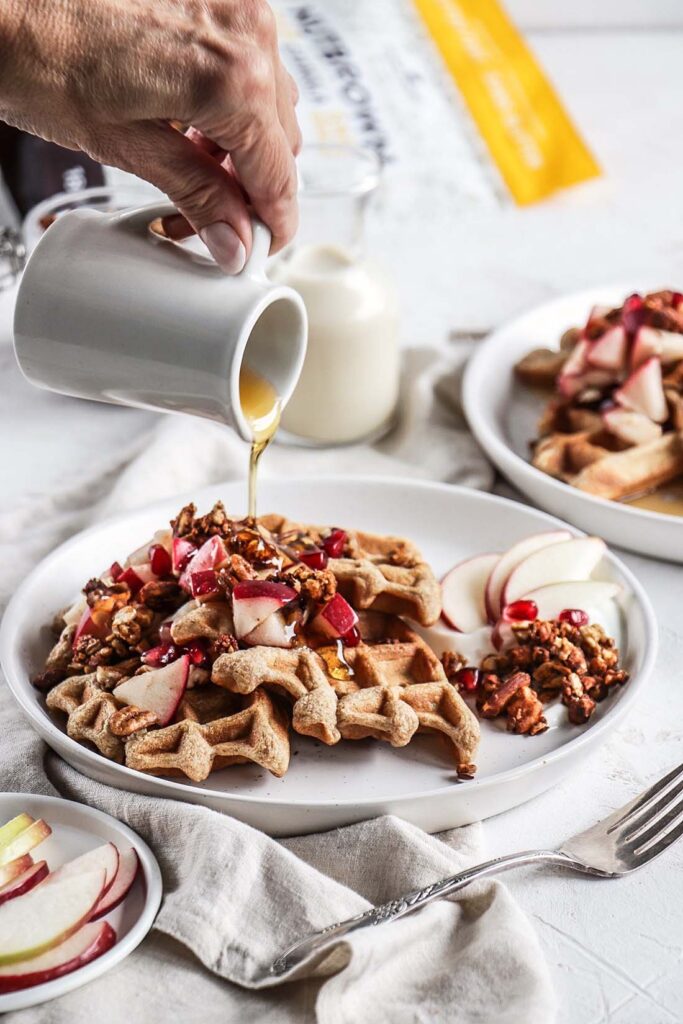 Directions:
Mix all dry ingredients in a bowl.
In another bowl, whip the eggs and maple syrup with a hand mixer until mixture triples in size and lightens slightly.
Add the butter, milk and vanilla and mix until smooth.
Add the dry ingredients and mix well.
Grease the waffle iron and pour about 1/3 of the mixture at a time.
Bake for 2-3 minutes.
Garnish waffles with diced apples, pomegranates, NUTBROWN Natural and maple syrup.