Warm and fluffy with a sweet cinnamon flavour. You guessed it, it's a cinnamon roll! For a little crunch, we added our classic Grand Granola Nature. Whether or not you're at the cottage, this recipe will take you there 🍂🤎
Ingredients to make 12 rolls
1 cup milk, room temperature
2 1/4 tsp. instant yeast
1/2 cup sugar
1/2 cup butter, softened
2 tsp. salt
2 eggs
4 cups flour
Topping:
Frosting:
1/2 cup cream cheese, room temperature
1/4 cup butter, softened
1 1/2 cups icing sugar
1/2 tbsp. vanilla
1 pinch of salt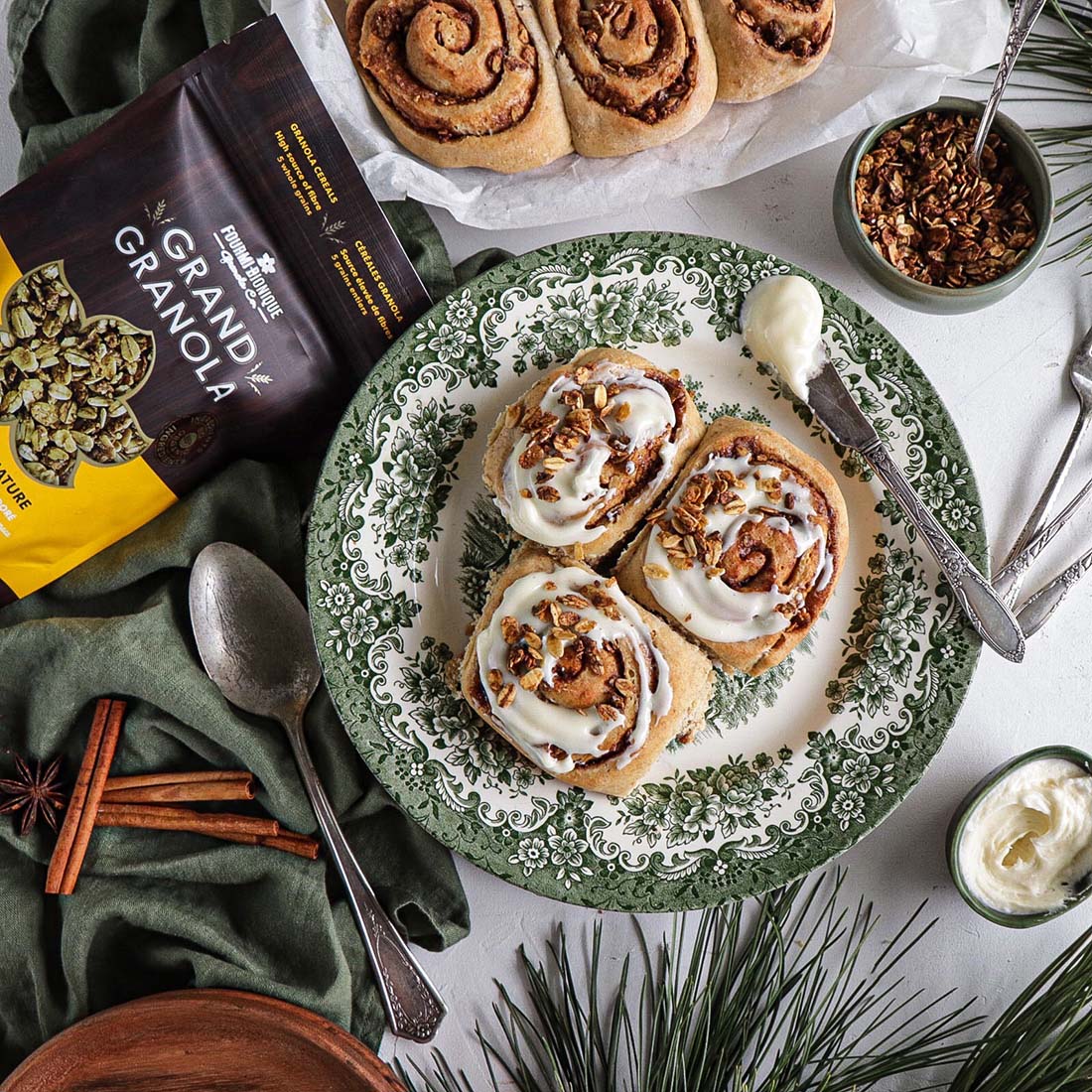 Directions:
In a large bowl, combine the milk and yeast and let stand for 5 min.
Add the sugar, butter, salt and eggs.
Mix with a wooden spoon.
Add the flour and mix well.
Knead the dough by hand on a clean and floured surface. Add flour if needed. Knead for 5 to 8 minutes and form a ball.
Place the ball in an oiled bowl, cover with a damp cloth and let rest in the oven with the oven light on. The dough should double in size).
Directions for the filling:
In a bowl, combine the brown sugar and cinnamon, then set aside.
After an hour, roll out the dough on a floured surface into a rectangle measuring about 18 x 15 inches.
Spread the butter on dough and sprinkle with the brown sugar mixture and granola.
Roll the dough into a cylinder and cut it into 12 evenly thick slices.
Place the rolls in a buttered, parchment-lined 13 x9-inch rectangular baking pan.
Cover with a damp cloth and let rest for 30 minutes, they should double in size.
Preheat the oven to 350F.
After 30 minutes, bake for 20 minutes.
While the rolls are baking, make the frosting by mixing all the ingredients in a bowl with an electric mixer for 2 minutes.
Remove the rolls from the oven and let cool.
Top with frosting and Natural Grand Granola.