To all the risotto lovers out there, this recipe is made especially for you. Asparagus, crunchy granola and mint leaves… It's got everything for a meal packed with flavor!
Ingredients:
1 asparagus bunch
4 cups vegetable broth
1/4 cup butter
1/3 cup shallots
2 cloves garlic
1 1/2 cups Arborio rice
1/2 tbsp. white wine
1/4 cup mint leaves
1/4 cup basil leaves
3/4 cup parmesan cheese
1/2 cup Nutbrown Nature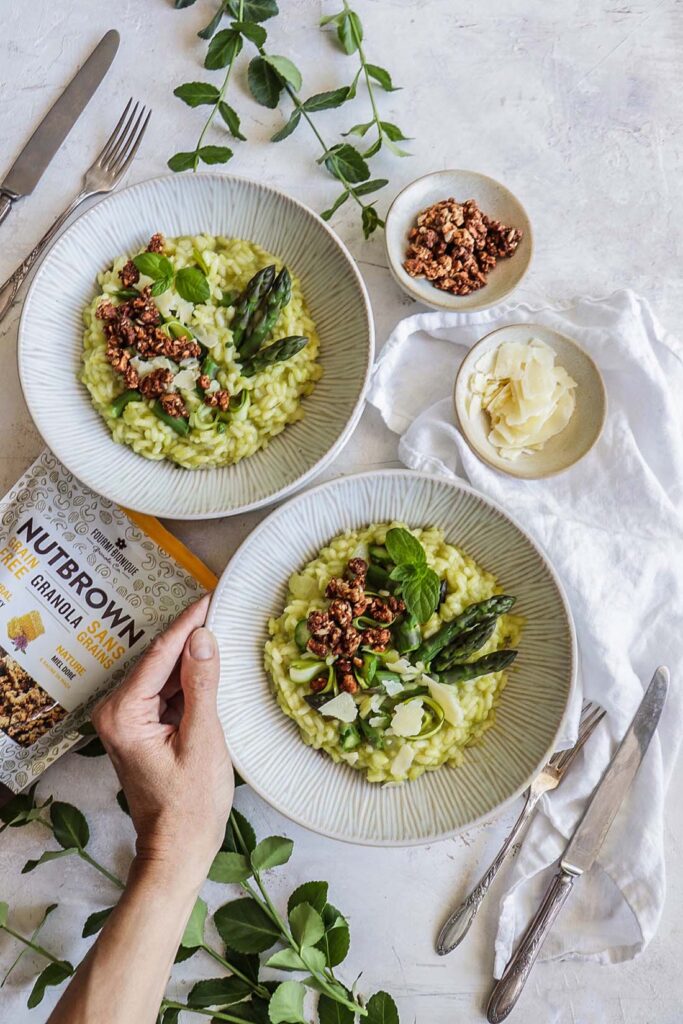 Directions:
Peel the asparagus and cut it into thirds. Blanch them in a pot of water for about 3 minutes and set aside.
Keep 1/4 of the cooking water.
Place half the asparagus in a blender with 1 clove of garlic, half the mint and basil leaves and the cooking water.
Blend until creamy and set aside. In a saucepan, melt the butter over medium heat, add the shallots and 1 clove of garlic, and cook for 1 minute.
Add rice, cook for about 2 minutes and deglaze with white wine until reduced.
Add the broth 3/4 cup at a time, stirring often (about 20 min).
Rice should be al dente and creamy.
Add the asparagus purée and stir over very low heat for 1 min.
Remove from the heat and add the cheese, remaining asparagus pieces and a few mint and basil leaves.
Garnish with parmesan shavings and Nutbrown Nature.