Happy Thanksgiving! Lacking inspiration for dessert? We thought you might be interested by our delicious pumpkin and carrot cake, cream cheese with Nature Granola Granola and walnut icing!
Ingredients:
1 cup spelt flour
1/2 cup buckwheat flour
1/2 cup almond powder
1/4 cup of grated coconut
1 tbsp. baking powder
1 tsp. baking soda
1 tbsp. cinnamon
1 tsp. ginger powder
1/2 tsp. nutmeg
1/4 teaspoon cloves
1/2 cup brown sugar
3 eggs
1/2 cup canola oil
3/4 cup pumpkin puree
2 cups grated carrots
1/2 cup Greek yogurt
1/2 cup walnuts
1/2 cup chopped dates
For the frosting:
1/4 cup softened butter
1 package cream cheese (300g)
3 cups powdered sugar
1/2 tsp. vanilla
1 tsp. maple syrup
For the topping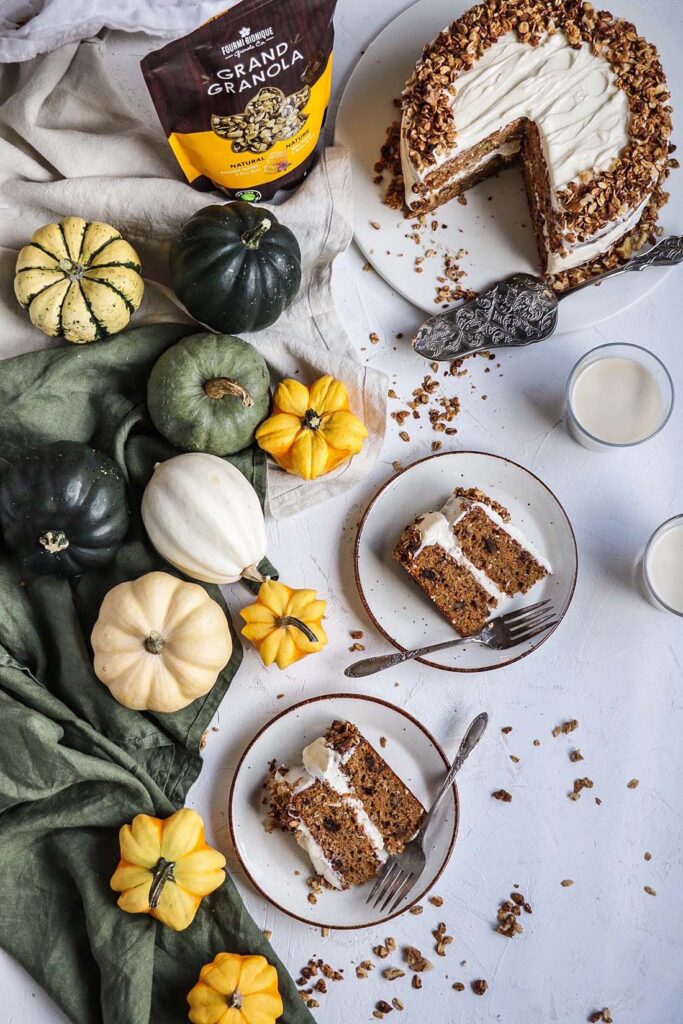 Directions:
Mix the dry ingredients together in a bowl.
In another bowl, mix the eggs, sugar and maple syrup.
Add the puree and carrots.
Mix in the flour, nuts and dates.
Divide the mixture into two 8-inch baking pans lined with parchment paper.
Bake at 350 F for about 50 minutes.
PFor the frosting:
Mix in a bowl with an electric hand mixer until smooth and creamy.
Allow the cakes to cool, then frost the cakes, add the granola and place them on a serving plate!