During our long, harsh Quebec winters, many of us crave hot beverages for comfort, but also for the energy and benefits they can offer. Among them, green tea is known to provide many health benefits, including weight loss when you've gone overboard with the Christmas cookies.
But there's one tea that has double the effect! You guessed it: matcha. This powdered green tea has become a part of our daily lives over the past few years due to the many health benefits it offers. Not familiar with matcha? Here's everything you need to know about this useful plant!
What is matcha tea?
Matcha's properties
Matcha tea's antioxidant power
How to make matcha
Three recipes using matcha tea
What is matcha tea?
Matcha tea, ever more popular, is a powdered green tea originating from China that gained prominence in the renowned Japanese tea ceremony. The process of preparing it is more theatrical since, unlike other teas, it is first ground into a very fine powder before being mixed with water—a method similar to that of Turkish coffee.
As a result, the leaves are consumed with the water, which increases the concentration of the plant in the drink, and consequently, the possibility of taking full advantage of its properties.
Matcha tea's properties
Matcha tea's many benefits are what made it so popular. Some have even substituted coffee for matcha tea because it has all the benefits of coffee, without the side effects! Here's a list of the benefits attributed to it:
Strengthens the immune system and reduces stress
Has a diuretic effect
Stimulates the mind and relaxes the body
Reduces cholesterol
Helps prevent infections and cavities
Helps keep arteries healthy and control high blood pressure
Lowers blood sugar levels
Helps control diabetes and prevent liver fibrosis
Eliminates free radicals thanks to its high antioxidant content
Promotes fat burning naturally and helps with weight loss
Satisfies hunger and quenches thirst naturally
Fights constipation thanks to its high tannin concentration
If there's one main benefit, it's clearly its particularly high antioxidant content.
Matcha tea's antioxidant power
Antioxidants, as their name implies, are known to reduce or prevent the oxidation of other substances. So, they allow cells to fend off the free radicals that cause them to age. In addition to maintaining good organ health, antioxidants improve the appearance of the skin and nails, while helping to maintain good blood sugar and cholesterol levels. It's therefore a stellar ingredient to help prevent diabetes and obesity and, in the long run, reduce the impact that time has on our bodies.
How to make matcha
In order to get the most out of matcha tea, you need to prepare it in a special way. Here are the steps:
Use natural mineral water with low mineral content
Heat the water to 158–185°F (70–85°C) without bringing it to a boil.
Add a teaspoon of matcha green tea powder and start mixing until it dissolves completely. And there you have it!
It's recommended that you don't add any sugar to fully enjoy the flavour. For those with a sweet tooth, stevia is a good option, as it blends well with the matcha's herbal flavour.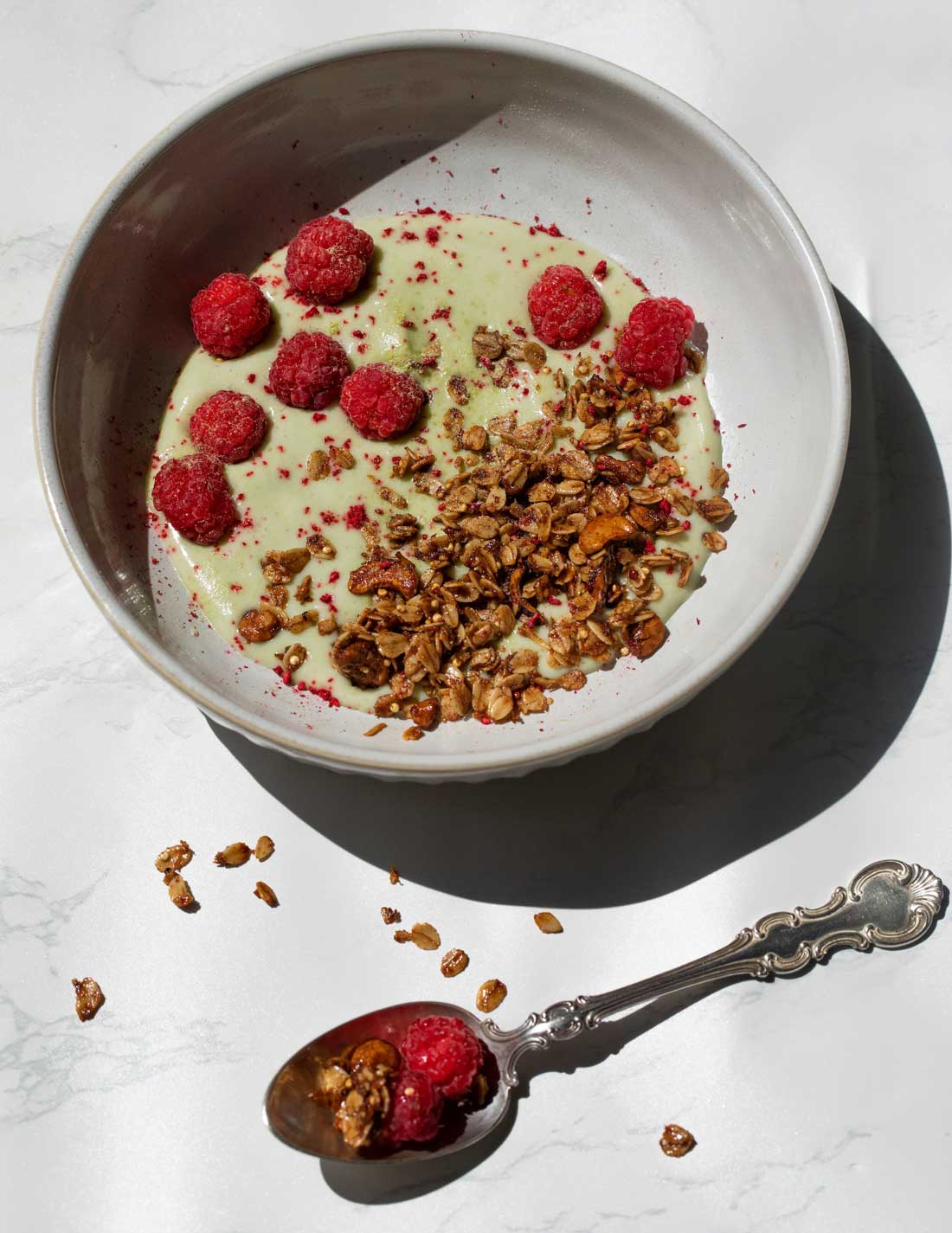 Recipes using matcha tea
Although it is usually used as an infusion, matcha tea can also be used in many recipes. Here are some delicious ideas!
Colourful Greek Yogurt and Grand Granola Nature
In this article, you'll find an easy yogurt recipe consisting of several colourful layers, topped with Grand Granola Nature. Matcha powder is used to make up one of the layers, adding a healthy and aesthetically pleasing touch.
Matcha Tea Ice Cream
The matcha tea ice cream is very simple to make, creamy, sweet and refreshing. In other words, you absolutely have to try this recipe!
Ingredients
2 tbsp matcha tea
130 g sugar
180 ml cream
180 ml milk
3 eggs
Directions
In a container, mix the two tablespoons of sugar with the matcha green tea.
Separate the egg whites from the yolks.
Mix the egg yolks with the sugar in a separate container.
Stir in the tea mixture and mix well until you have a dense paste.
Gently whip the cream and add it to the mixture.
Pour everything into a large airtight container and refrigerate for 3 hours.
Then transfer the container to the freezer and stir every 30 to 40 minutes to prevent crystals from forming.
Once it has an ice cream consistency, it's ready!
Matcha Latte
Matcha latte is a delicious and comforting drink that gets a lot of love. It only takes 6 ingredients and 10 minutes to make!
Ingredients
¼ cup (65 ml) hot water
1 tsp matcha powder
1 cup (250 ml) cow's milk or plant-based milk, such as coconut milk
1 tbsp maple syrup (optional)
¼ tsp vanilla extract (optional)
¼ tsp ground cinnamon (optional)
Directions
Heat the water and milk in a saucepan or in the microwave.
Put the hot water, matcha tea, syrup and cinnamon in a bowl and stir with a small whisk, fork or spoon. There are special bamboo whisks designed for matcha tea.
Pour the milk into a cup and add the matcha tea mixture, stirring until fully incorporated.
Serve immediately. Can be stored for 2 to 3 days in the refrigerator.
Armed with these tips, you'll know how to use matcha to make hot drinks and antioxidant-packed recipes. With our Foodie Mix snacks, healthy muesli, comforting granola or our gluten-free granola, you'll be ready to face winter!