In the La Fourmi production facility, a fragrance from the Middle East is wafting through the air somewhere between the Grand Granola and the NUTBROWN. Enticing scents of toasted nuts and spices are transporting us to exotic places. What is this new treat? It is our very own Dukkah Brunch, which is part of our new product line, Müska, which you can discover here.
What is Dukkah?
Dukkah is a blend that originates from Egypt, traditionally made from hazelnuts, sesame seeds and spices such as cumin, coriander seeds, pepper and salt. Well-known in the southern hemisphere, Dukkah is slowly gaining popularity for its versatility, fragrance, texture and nutritional properties (it is rich in good fats and fibres).
Our very own version, Dukkah Brunch, is very versatile, but it has been tweaked to suit breakfast or brunch menus, with its hints of maple, and cinnamon. Available exclusively on our online store, our Breakfast Dukkah can enhance your dishes and recipes in many ways, whether sweet or savoury. Since we don't like to leave you without some inspiration, here are some recipe ideas.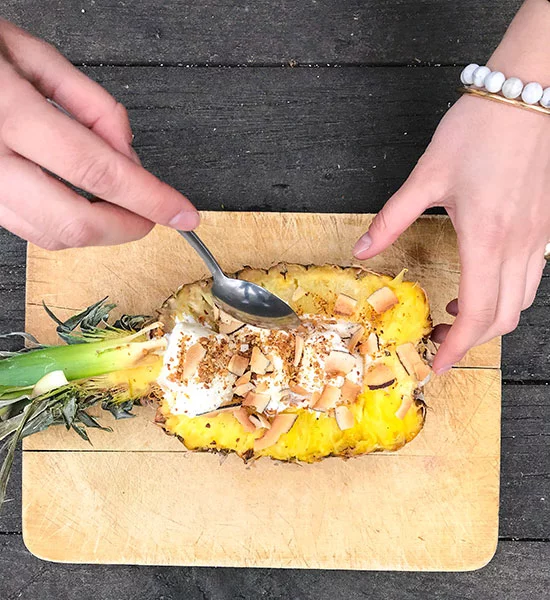 Recipe ideas using Dukkah Brunch
1. Dukkah Banana Crumble
Ingredients: 100g Dukkah Brunch, 50g sugar, 50g butter, 2 bananas.
Preparation: Mix the Dukkah, sugar and butter with your hands. Cut the two bananas into pieces. Butter the dish, then place the pieces of bananas inside. Cover with the Dukkah preparation. Cook for 20-30 minutes in a preheated oven at 180 °C / 350 °F. You can replace bananas with the fruit of your choice.
2. Dukkah BBQ Marinade
Ingredients: 2 tablespoons Dukkah Brunch, 62.5 ml olive oil, 125 ml barbecue sauce, 62.5 ml soy sauce, 2 cloves of garlic, minced, 30 ml steak spices.
Preparation: Mix all the ingredients together and marinate the meat of your choice overnight in the refrigerator. Cook the meat on the BBQ while basting with the rest of the marinade.
3. Dukkah Cookies
Ingredients: 3 tablespoons of Dukkah Brunch, 1 egg, 150g flour, 75g butter, 80g sugar, 1 package or 8g vanilla sugar, 1/2 package or 5g baking powder, 1 pinch of salt.
Instructions: Preheat the oven to 140 °C / 280 °F. Line a baking sheet with parchment paper. Melt the butter. Mix the sugar with the butter and the salt and then add the egg and the vanilla sugar. Add the flour and baking powder while stirring the mixture. Incorporate the Dukkah Brunch. Make balls of dough and place them on the parchment paper, making sure to leave some space between them. Bake the cookies for 15 minutes or until lightly browned.
Other recipes on our site:
Mesfouf with sweet and savory muesli