You may have noticed that many La Fourmi cereal blends contain nuts as well as dried fruit. In addition to providing tasty, fruity and comforting notes, they are also interesting on a nutritional level. What exactly are the benefits of these ingredients on our health? How do they make our products even more nutritious? In this article, discover all the secrets of these superfoods!
The differences between nuts and dried fruits
Nuts
Nuts are naturally dry oleaginous fruits, usually protected by a shell. They are very nutritious and an excellent source of vitamins, minerals and lipids.
Dried or dehydrated fruits.
Dried fruit is fruit from which the majority of its water has been removed through drying methods. Nutrients, fibers and sugars are always present in the same quantities. However, be careful not to over consume them. Their sugar concentration is higher, and given their small and easy-to-grab format, they are generally consumed in larger quantities.
The 7 essential nuts and their benefits
Almond: rich in fiber, vegetable proteins and vitamin E, it has a low glycemic index. It is also great for athletes!
Pecan: full of nutrients, minerals and vitamins, it contains more than 75% of good fats.
Hazelnut: loaded with nutrients, it can help lower blood fat levels, regulate blood pressure and reduce inflammation.
Walnut: rich in omega-3 polyunsaturated fatty acids, making them excellent for memory functions.
Brazil nut: a high content of selenium (trace element with antioxidant properties) which could help prevent certain cancers.
Cashew: low in sugar, high in fiber and heart-healthy fats, and plant-based protein.
Macadamia nut: full of vitamins, minerals, fiber and good monounsaturated fats. Also low in carbohydrates and sugar.
8 essential dried fruits and their benefits
Apricot: low in calories and fat, it's an excellent source of vitamins A and C.
Banana: rich in carbohydrates, potassium, minerals, antioxidants, and vitamins.
Cranberry: contains polyphenols and antioxidants that help prevent certain bacterial infections, and may improve heart health.
Goji berry: full of nutrients and antioxidants, may support immune function and healthy vision.
Date: offers antioxidants and nutrients that can reduce the risk of heart disease and aid digestion.
Fig: improves digestion/decreased constipation, offers better management of fat/blood sugar levels.
Blueberry: has the highest antioxidant capacity of all popular fruits and vegetables!
Grape: from Currants to Thompson, it has a good amount of iron and vitamin B, as well as many minerals.
Choosing the right nuts and dried fruits
In bulk
Bulk is a good way to consume quality products and reduce your environmental footprint. At La Fourmi, our nuts and dried fruits in bulk, available on our online store, allow you to make your own granola or trail mix, always with your favorite ingredients. You can also incorporate them into your sweet or savory recipes for more sweetness! And if you're unsure about buying in bulk because of the packaging, our elegant glass jars will definitely stand out in your pantry!
Without sulphites
Did you know all of our granolas, snacks, and bulk ingredients are sulphite free? Naturally present in certain foods, these substances are sometimes used by the food industry as additives to preserve the color of foods, extend their shelf life and prevent the growth of fungi or bacteria. Since the very beginning at La Fourmi, we have been committed to choosing the healthiest and most natural ingredients for our recipes. This therefore requires products without sulphites.
Organic if possible
Organic certification guarantees at least 70% of organic ingredients in a recipe, with a production method that must avoid the use of synthetic chemicals and GMOs. For us, this guarantees greater respect for the product, the environment and most certainly health. To all our foodie customers, our priority is to offer you quality, local and organic products whenever it's possible.
Consume nuts and dried fruits on a daily basis
For workout aficionados
Before a workout, the body needs a quick boost of energy. Nuts such as almonds are super foods for training and physical activity. Their good amount of vitamin E provides an antioxidant effect to improve joint and cell recovery. Their fat content can vary from 35 to 70% depending on the fruit. Moreover, they're "good fats" which contain polyunsaturated fatty acids (omega 3 or 6) that the human body cannot produce on its own. How about trying this tasty energy balls recipe? To be enjoyed before training to stock up on energy!
For busy humans
Just imagine: finding your favorite dried and nutty fruits in one same place would be fantastic, wouldn't it? In order to make your life easier, we have designed the Nutbrown range: 6 delicious grain-free (meaning they do not contain cereals) and gluten-free blends, made from roasted seeds and nuts. A true revolution in the world of healthy breakfasts and snacks! Dried apples, coconut flakes, Thompson raisins, macadamia nuts, cranberries, almonds… All your favorite nuts and dried fruits close to hand, like with our Foodie Mix range!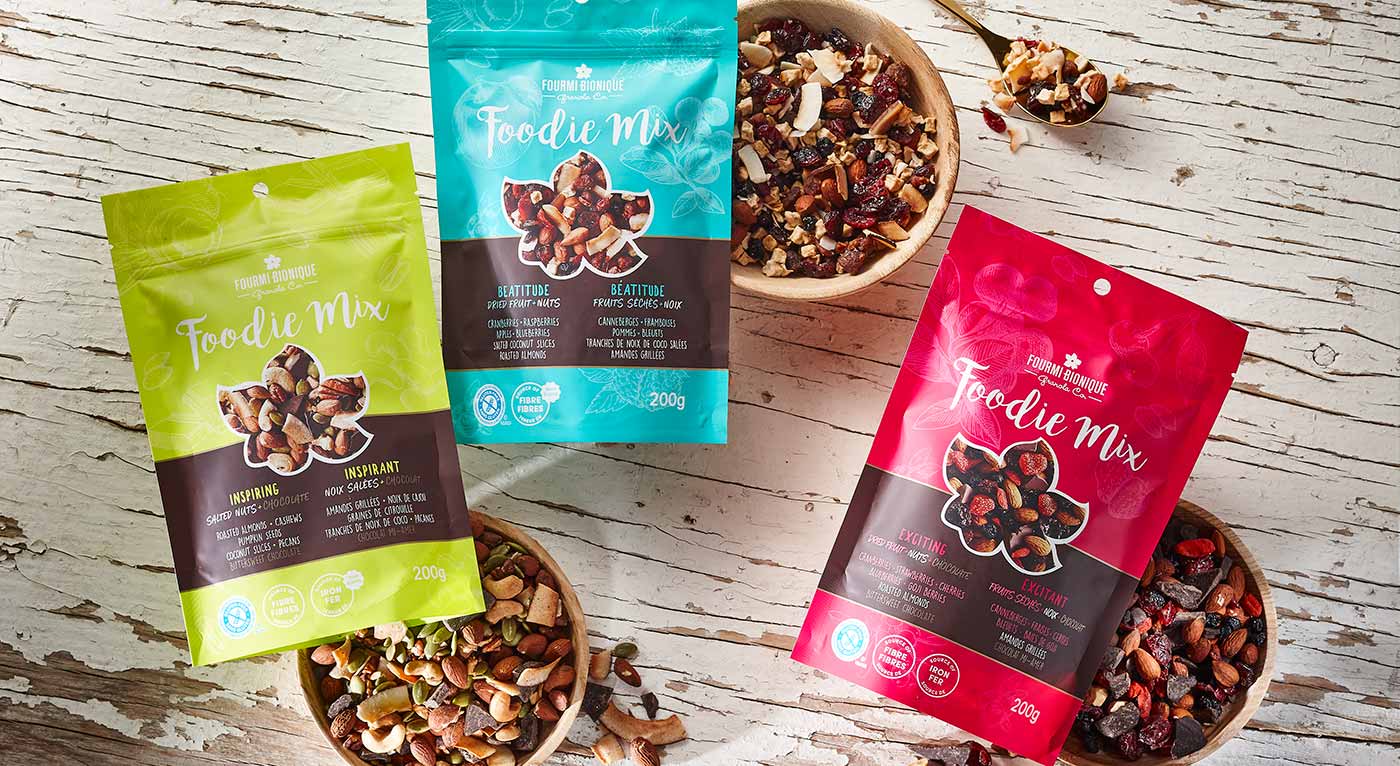 Breakfast idea: a bowl of cold almond milk, and a nice handful of Nutbrown Vitality blend, topped with its delicious dried cranberries, apples and whole almonds.
What you should remember
Nuts are naturally dry, rich in fats and nutrients;
Dried fruits have undergone dehydration: almost all the water is removed, but the nutrients and sugar remain intact;
Dried fruits are very good healthy snacks, tasty, and easy to consume;
For athletes, they are a very good pre-workout option.