Why not make granola that is 100% organic? Organic farming isn't new, but despite growing demand, it is still a complex subject. At La Fourmi, organic food has been at the heart of our priorities since day one, along with local sourcing in the production of our granola, snacks and for our bulk ingredients. However, we must constantly think about how to include organic ingredients, which come at a higher cost and require compromise. Should we focus on organic granola or local granola? What about organic vs. fair trade? Is organic certification always a guarantee of a high-quality product? Read on to learn why these answers are far from obvious.
Why choose certified organic granola?
Organic certification guarantees that a product's recipe used 70% or more of organic ingredients. But what does that really mean? An ingredient that is classified as "organic" has been produced in the context of sustainable agriculture and respect for biodiversity. In other words, organic production rules out the use of synthetic chemicals and GMOs. This type of agriculture recycles plant waste and practices crop rotation for healthier soil.
Therefore, organic agriculture guarantees greater respect for the product, for the environment and for health. Indeed, a recent study conducted by the INSERM (the French National Institute of Health and Medical Research) on nearly 69,000 people, published in the Journal of the American Medical Association (JAMA), shows that there is 25% less cancer in people who regularly consume organic food. Learn more.
There are so many reasons that encourage us to focus on organic food, placing it at the heart of our concerns.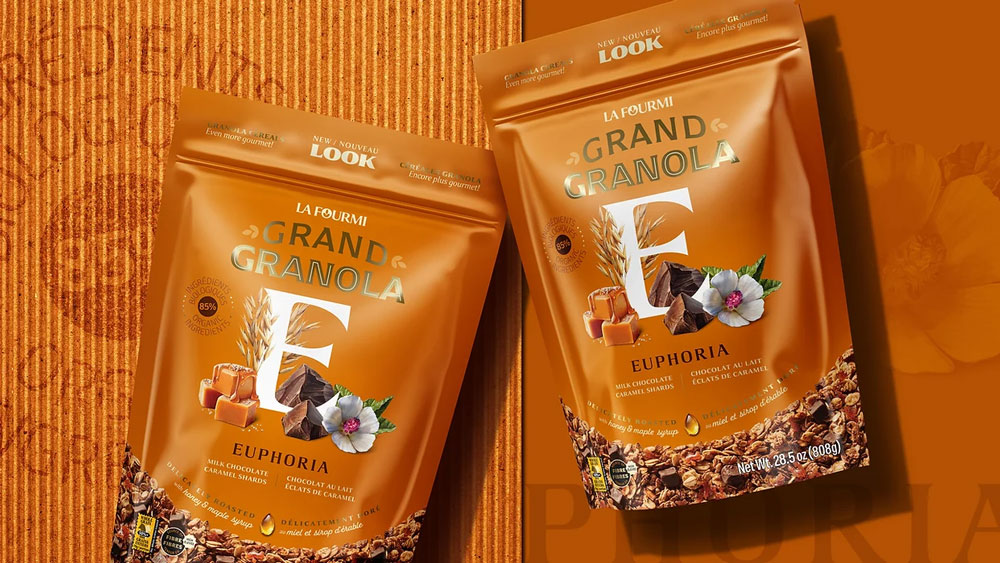 Should we choose organic or local granola?
This is an important question, as local organic products are often more expensive than products from abroad. In addition, not all ingredients can be made everywhere: just try to cultivate organic coconut in Quebec… That is when we need to ask the right questions. When should we buy organic and when should we buy local?
In order to answer this question, several factors must be considered:
Is the organic version of the ingredient readily available?

There is not enough organic food for everyone: it only represents 1% of all agricultural production.

Not all organic materials are equal. There may be differences in organic specifications across countries, even though there are equivalencies/agreements between the different territories. Knowing that over 80% of the underground water in parts of China is polluted, we should definitely ask ourselves how safe the materials are. Source: New York Times.

Local conventional agriculture sometimes has a smaller carbon footprint and a greater impact on health and the local economy, compared to buying organic food from the other side of the planet. Source: Équiterre. Keep in mind that the food sector accounts for 15 to 30% of greenhouse gas emissions. Source: FCRN FoodSource.

Selling 100% organic products at high prices is not a progressive approach; it does not make it possible to democratize access to organic products to as many consumers as possible.

Producing organic at a low price can lead to abuse. Fraud (honey is especially likely to be tampered with), pressure on employees (low wages, illegal employment, work under the table…) and pressure on the land, when demand is so high that production can't keep up (leading to industrial drifts, farmland drying up …). Source: Food and Wine.

Not all products from conventional agriculture are exposed to pesticides at the same rate. Learn more.
Organic farming clearly has its own issues. When an option that is both local and organic is not possible, the choice is up to the companies: they can offer 100% organic, abandoning the philosophy that goes with it at the expense of having to change the recipe/product, or give up the organic label and lose market share. As they say, there are two sides to every coin.
There is also a cost to not selling organic granola!
Not having the organic granola stamp can have many repercussions for a company. This can limit sales to some specialized markets, to part of the customer base and even in some countries where legislation is more restrictive (especially in Europe).
At La Fourmi, we own the choices we have made, even though those choices may close certain doors. We have decided to put the quality of our products at the center of everything. That is why we source local and organic products when possible, but not at all costs.
To create cheaper organic products, we could have chosen, for example, to exclusively use organic cane sugar. However, our desire to respect the artisanal character of our recipes and to offer healthy and high-end granolas has led us to continue to add local honey, a luxury ingredient. And we are one of the few companies to do it! Unfortunately, it is difficult to use local organic honey considering that the production is low, and the price is high. We could also buy imported organic honey, but we prefer to put forward the quality ingredients of our local producers.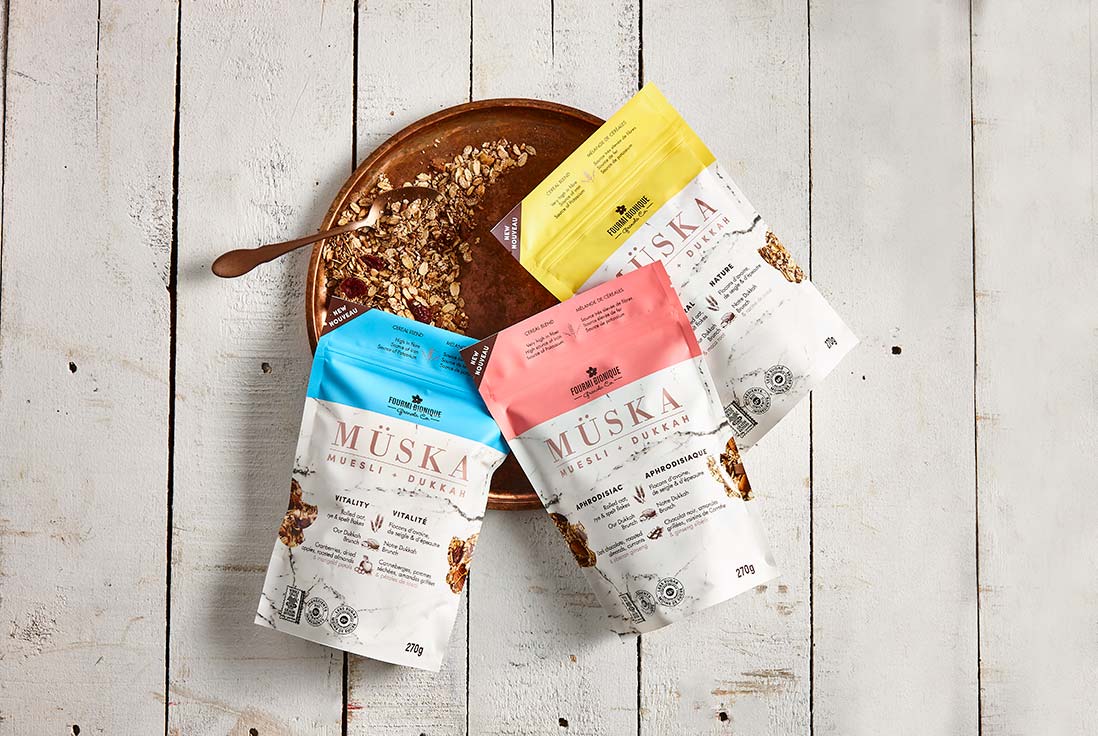 La Fourmi: Organic, Local and Fair-Trade Ingredients
In the interest of total transparency, here are some of the sourcing decisions we have made in order to offer healthy and high-quality granola blends.
Our local and organic supply consists of grains that are easily found in Quebec: oats, spelt, rye and barley.
The different organic products that we know we want to use, but which are difficult to source in Quebec are imported from Quebec distributors who can assure quality and traceability. These products include our cane sugar, coconut (both coconut flour and coconut sugar), sesame seeds, flax seeds, white chocolate, 71% dark chocolate, caramel milk chocolate, espresso chocolate, Thompson grapes, tamari, Siberian ginseng, marigold petals, astragalus powder, maca powder, slippery elm powder, elderberries, marshmallow root, and matcha.
Then, there are products that we wanted to source in Quebec, even if it means they come from conventional agriculture. Here, we're talking about honey, maple syrup, cranberries and artisan chocolate from Chocolats Geneviève Grandbois.
Finally, we also wanted to ensure that some products are fair trade. These include our 71% organic dark chocolate, espresso chocolate, caramel milk chocolate and cocoa powder.
By the way, the local, organic, or fair-trade origin of each ingredient is clearly labelled on our packaging.
Our Grand Granola has an organic certification
The Grand Granola range is Ecocert Canada certified in the 70 to 95% organic ingredients category. The other ingredients are conventionally grown and GMO free. This certification meets CARTV's Designation Specification Manual and an audit is carried out each year. The audit consists of a validation of ingredients, methods and preparation processes according to the reference system. This is to ensure the respect of the organic integrity of products throughout the production chain. For more information, visit Ecocert Canada.