Stop punishing yourself by telling yourself you aren't allowed to eat your favourite foods! After all, it's always possible to find healthier alternatives. This recipe for a chocolate tofu pudding verrine is a perfect example.
The creamy pudding is made with chocolate and tofu, so you can dial up the intensity of the cacao flavour as much as you like.
Don't be afraid of the tofu in this chocolatey dessert – we're sure that you'll fall in love with this pudding as soon as you taste it! Most people find that tofu doesn't taste like anything, so it's perfect to use in a variety of recipes to take advantage of its nutritional benefits.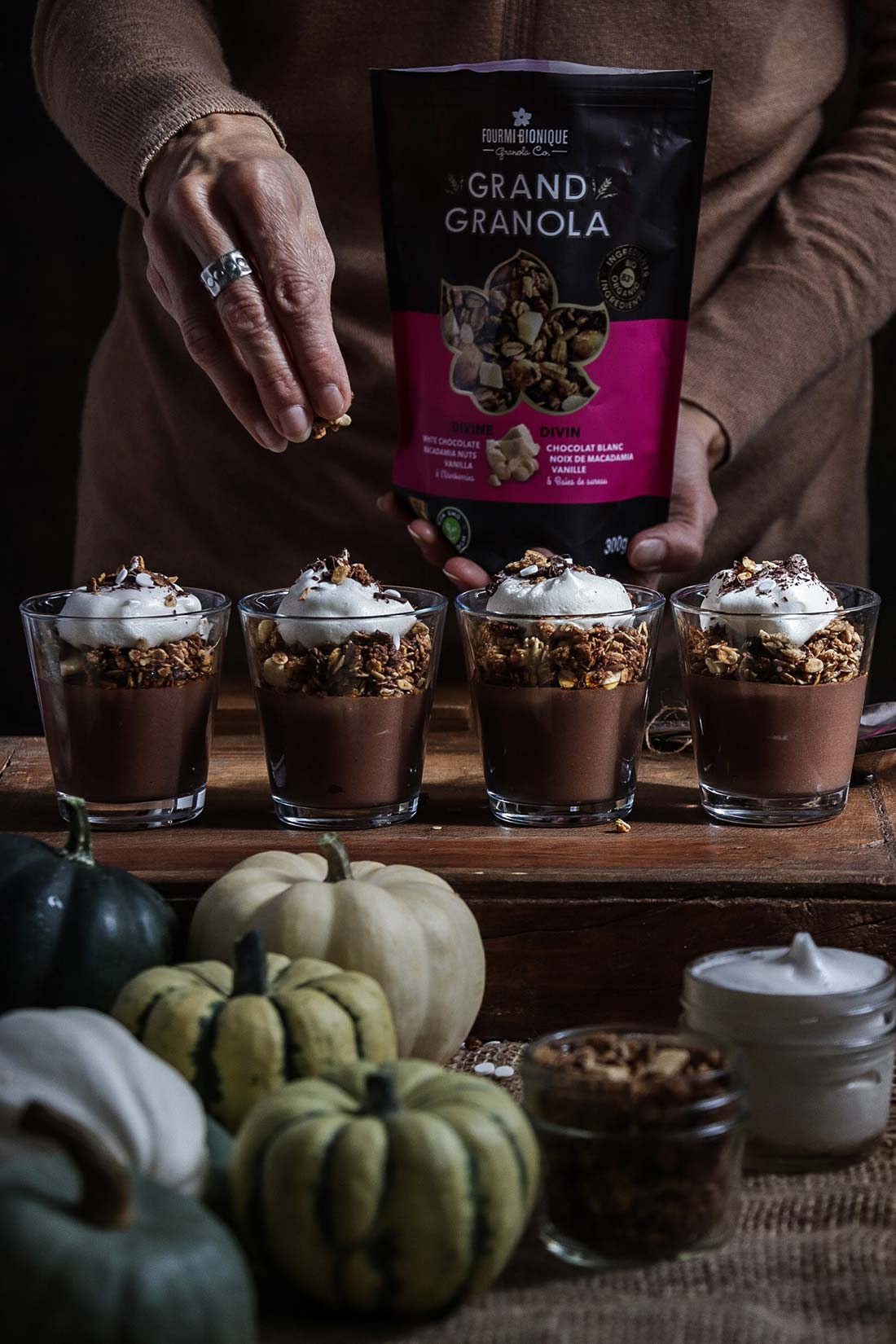 Did we convince you yet? Great! Let's make pudding!
Preparation time: 40 minutes
Ingredients
For the chocolate tofu mousse:
1 cup Organic Dark Chocolate
1 package of silken tofu (300g)
1/3 cup almond milk
¼ cup maple syrup
a few drops of almond extract
For the meringue topping:
2 egg whites
½ tsp. lemon juice
1/3 cup maple syrup
The chocolate pudding and tofu verrine recipe
Melt the chocolate in the microwave or in a double boiler until smooth.
Put the tofu, milk, maple syrup and almond extract in a blender and blend well.
Add the melted chocolate and blend until the mixture is completely smooth.
Divide between four verrines and refrigerate for 1-2 hours.
For the meringue topping: With a hand mixer, beat the egg whites and the lemon juice until foamy. Add the maple syrup and continue beating until soft peaks form.
Before serving, divide the meringue between the pudding glasses, top with Divine Grand Granola and sprinkle grated chocolate on top!